Partner Relationship Overview

What is the Partner Relationship?
If you work with a Microsoft certified partner, they should be listed here as your partner of record.
Partner Resellers can be added to their customer's tenant by completing their own delegated admin invitation process.

Why would I want a partner?
Purchasing through a CSP means working through a partner of Microsoft and not through Microsoft directly. If you require help managing Office 365 tasks, Westcoast Cloud can help manage your licenses and assist in on-going support.
Where is the Partner Relationship in O365 portal?
The Partner Relationship can be found: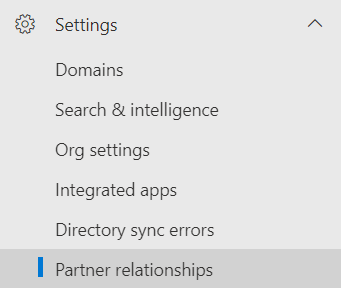 In the M365 Admin portal: Settings -> Partner Relationships
Does accepting Westcoast Cloud's partner relationship give additional permissions?
Yes. By accepting the Partner relationship, by default Westcoast Cloud are automatically assigned Delegated Admin rights. Through these we can investigate any support queries raised and escalate tickets to Microsoft if required.
Can I remove Westcoast Cloud's Delegated Admin rights?
Yes. However, you should be aware of the following:
Having been removed from the Partner Relationships, this prevents the CSP Partner from accessing the O365 portal, and therefore the CSP Partner would be unable to escalate any service requests to Microsoft. It may be necessary for the invitation process to be completed again so that service requests may be raised.
Despite being removed from the O365 portal, the CSP Partner will still be able to add licenses to the portal.
Removing the CSP Partner centre relationship will remove both, admin roles and the ability to provision licences through our csp licencing portal.
Removing the CSP Admin roles will remove the delegated admin permissions but the ability to provision licences will remain.
How do I remove Westcoast Cloud's Delegated Admin rights?
To remove the delegated admin rights, open the M365 Admin Portal and navigate to Partner relationships.
Once in the Partner Relationships area you will be able to see all current relationships with Resellers and CSP's

You can then click on the partner for which you wish to remove admin rights, and then click 'Remove roles':

I now buy licenses through another supplier, but Westcoast Cloud are still listed within Partner Reseller Relationships, and Support still directs me to Westcoast Cloud. How do I remove the CSP entirely?
To have Westcoast Cloud removed as a Partner, a ticket will need to be raised to the support desk; this process can take up to one day to replicate across the system.
Please note the following:
The process can only begin once all licenses have been removed from the tenancy.
The process can only be initiated by the CSP provider.