Partner Relationship Overview

What is the Partner Relationship
If you work with a Microsoft certified partner, they should be listed here as your partner of record.
Partner Reseller's can be added to their customer's tenant by completing their own delegated admin invitation process.

Why would I want a partner?
Purchasing through CSP means working through a partner of Microsoft and not through Microsoft directly. If you require help managing Office 365 tasks, Westcoast can help manage your licenses and assist in ongoing support.


Where is the Partner Relationship in O365 portal?
The Partner Relationship can be found:

In the old portal: Users -> Partner Relationships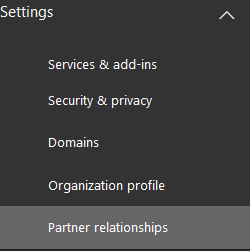 In the new O365 portal: Settings -> Partner Relationships
Can I remove Westcoast from the Partner Relationships?
Yes. However you should be aware of the following:
Having been removed from the Partner Relationships, prevents the CSP Partner from accessing the O365 portal, and therefore the CSP Partner is unable to escalate any service requests to Microsoft. It may be necessary for the invitation process to be completed again so service requests can be raised.

Despite being removed from the O365 portal, the CSP Partner will still be able to add licenses to the portal.

Removing the CSP Partner does remove access to all the Admin Centers also
How do I delete Westcoast from the O365 portal?
This must be carried out by the Global Administrator
In partner relationships select the partner you want to delete

Choose delete

When prompted, accept the warning by clicking Yes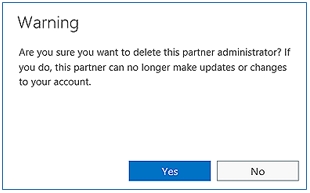 I now buy licenses through another supplier but Support still directs me to Westcoast / my CSP. How do remove the CSP entirely?
This must be requested by Westcoast and requires Microsoft to carry out a full deprovision. Please note the following:
This process can only be initiated by the CSP Provider

The process usually takes approximately 90 days to fully complete due to a deprovisioning process run by Microsoft

The process can only begin once all licenses have been removed from the tenant.